Idea Expo - Virtual Teacher Conference

◉ Earn Up to 9 Master Plan Points on this exciting day of professional development!
◉ All workshops are live, online, and interactive with Q&A in real time!
◉ Choose from 45 brand new online workshops with FL standards!
◉ Attend up to 4 virtual workshops!
◉ Workshops for ALL grade levels & subject areas, including STEM/STEAM, Technology, SEL, and more!
◉ Amazing Prize Giveaways! (Including a $500 Publix Giftcard)
The 2021 Idea Expo Teacher Conference will be an exciting day of professional development, with 45 brand new workshops led by M-DCPS teachers and featuring guest speakers, prize drawings and more. Register for up to 4 workshops. Earn up to 9 Master Plan Points for attending!
The first 200 to register will receive a gift bag from The Education Fund Ocean Bank Center for Educational Materials!
The Education Fund's Idea EXPO Virtual Teacher Conference is a teacher-to-teacher conference that showcases the sharing of "best practices" curriculum, featuring workshops for ALL K-12 teachers.

Click here to download the workshops' schedule.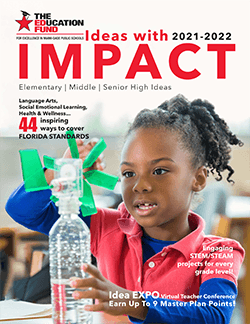 Read our new Ideas with Impact catalog
All projects in this catalog are workshops at our 2021 Idea Expo!


Thank You To Our Sponsors!