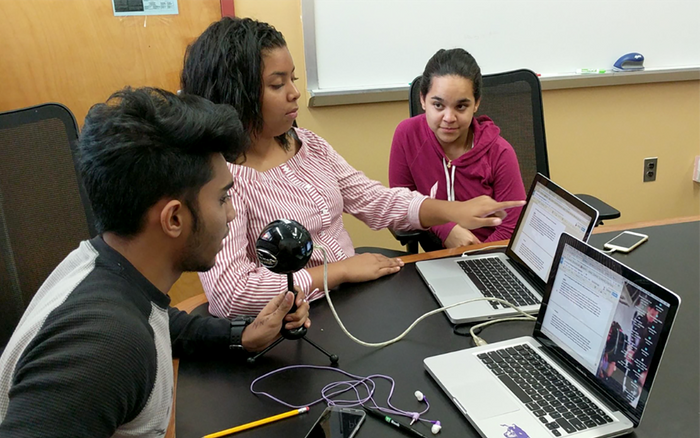 THE EDUCATION FUND ANNOUNCES NEW CIVICS PODCAST GRANTS
FUNDED BY THE LYNN AND LOUIS WOLFSON II FOUNDATION
NOW ACCEPTING APPLICATIONS FOR PODCAST INNOVATOR GRANTS TO FUND IN JANUARY 2021
When The Education Fund launched our Student Power Grant program to promote student civic engagement, we saw a 45% increase in the belief that citizens have a  large responsibility to take part in the civic process and a 92% increase in the number of students who had ever contacted an elected official. Students tackled issues of their own choosing, including mental health, bullying, the school-to-prison pipeline, and voter registration. Students learned that their voices can be heard, that their voices are loud, and that their voices are powerful.
To further this momentum, we announce our newest grant to help students broadcast their voices through podcasts, public service announcements (PSAs) and other video projects. Our grant will provide teachers with the funds necessary for students to produce their media projects and the platforms to share them with their peers, their community, and the world! 
Student podcasts and videos can cover a variety of pertinent topics such as pandemic management, vaping, gun laws, social media, bullying, and environmental issues - but ultimately the students will select relevant issues of most concern to them. 
Students naturally migrate toward integrating technology into their daily activities and for communicating their experiences. While everyone has a camera in their pocket, not everyone knows how to plan, produce, script, edit, and distribute their work.
APPLY NOW TO RECEIVE FUNDS FOR EARLY 2021
Funds can be used to purchase podcast recording kits (around $300), and video creation, editing and script dictation software packages. The Education Fund will provide a podcast platform for you to upload your students' podcasts. We will provide tutorial webinars to help get you started, that your students can also attend or view.  
Selected recipients will also receive a stipend.
Please note: We HIGHLY RECOMMEND that you compose the body of your grant application first in a document such as MS Word, before cutting and pasting it into the online application template. APPLICATION CANNOT BE SAVED while you are in the process of composing online, and applications have been lost in the past during this process and through technical-related interruptions, such as server disconnections.
2020-21 CIVICS PODCAST APPLICATION
Please read through these procedures and considerations before starting your application:
Approval is required from your school principal to ensure that appropriate administrative personnel are aware of your submission of the grant application.
Project funds must be spent during the current school year.
A final expense report will be required.
The Education Fund reserves the right to publicize all grant programs.
Each teacher may submit only one proposal; however, if a teacher is part of a team for one proposal, the teacher is not prohibited from submitting another proposal as part of a different team or on their own.
Contact Information:
Audrey Onyeike
Program Director
Ideas with IMPACT
The Education Fund 
audrey@educationfund.org
---