Apply to be a disseminator if you have developed a successful teaching idea or project that you want to share with other educators. Be featured in the next Ideas with IMPACT Catalog published in the fall.
Teachers selected as Disseminators receive honorariums/stipends of $750.
Scroll down to complete the application.
Eligibility
All Miami-Dade County Public Schools' educators working with students in any subject area.
Selection Criteria
Applications accepted for K-12 projects in all subject areas. 
Special Categories: STEM projects (science, technology, engineering, mathematics) that incorporate a mobile device (BYOD) such as an iPhone, smartphone, iPad or tablet into the project; Holocaust studies; robotics; financial literacy; and civics.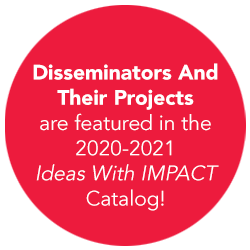 Application Deadline
The application below must be received by Monday, May 4, 2020. 
Ideas with IMPACT Network Benefits
Ideas with IMPACT assists teachers in marketing their ideas to other teachers.
Teachers' ideas are highlighted in the Ideas with IMPACT catalog, which is sent to 22,000+ teachers and principals in Miami-Dade County Public Schools, and also online at  www.educationfund.org                     
Disseminators are honored at events attended by leaders from the educational and business communities. Teachers gain recognition among their colleagues and the community.   
Disseminators receive training in presentation skills and networking strategies.
Contact:
Audrey Onyeike, Program Director of Ideas With Impact
audrey@educationfund.org

Click here to download the application questions for WORD.
NOTE: All questions must be completed for consideration. It is recommended that you write your proposal in a Word document or in another format that can be saved. Then cut and paste your text into the online form below.
NOTE: You can save and submit the application as a PDF (option to submit application in the PDF form).
Deadline for the application is  Monday, May 5, 2020
In addition, a high-resolution digital photo representing your project as well as a photo of you must be uploaded with your application.
---