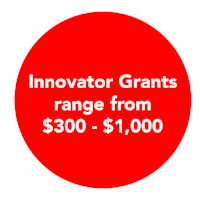 Innovator Grants provide funds to teachers to develop and implement instructional projects that motivate and challenge students to learn. Proposals should be a unique classroom project that enliven and enrich the curriculum. Many past grants have included interdisciplinary, active-learning lessons. Others have reinforced learning through simulations or applied school work to real-life situations. 
Do you have an idea you want to try in your classroom? Apply for an Innovator Grant to make your dream a reality!
Quick and easy reporting requirements
Grant checks written directly to teachers
Recipients recognized at an Awards Reception and in an Awards Publication
Open only to K-12 public school teachers in Miami-Dade County
Apply now for the 2018-2019 school year! Deadline: November 15, 2018
IMPORTANT: While we welcome projects for funding in any category, there is additional funding made available for projects addressing specific areas of study. Our current areas are STEM/STEAM, Robotics, Holocaust Education  and Literacy.
Please note: We HIGHLY RECOMMEND that you compose the body of your grant application first in a document such as MS Word, before cutting and pasting it into the online application template. APPLICATION CANNOT BE SAVED while you are in the process of composing online, and applications have been lost in the past during this process and through technical-related interruptions, such as server disconnections.
Please also read through these procedures and considerations before starting your application:
Approval is required from your school principal to ensure that appropriate administrative personnel are aware of your submission of the grant application.
Project funds must be spent during the current school year.
A final expense report will be required and periodic site visits may be conducted.
The Education Fund reserves the right to publicize all grant programs.
Applicant's name or school name should not appear in the text of the grant. Include name only in the general information section.
Funds cannot be allocated toward personal honorariums for the applicant.
Proposals will not be funded for expansion and/or maintenance of previous grants.
The Education Fund reserves the right to fund programs that it considers appropriate for one school, but not for another.
Each teacher may submit only one proposal; however, if a teacher is part of a team for one proposal, the teacher is not prohibited from submitting another proposal as part of a different team or on their own.
Applicants should be registered for and attend the 2018 Idea Expo Teacher Conference. 
Contact information:
Audrey Onyeike, Program Director, Ideas with IMPACT
The Education Fund
audrey@educationfund.org
---