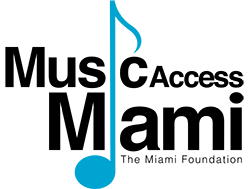 The Education Fund is collaborating with The Miami Foundation for the 2021-2022 school year to help every child receive access to high-quality music education. We have created a three-pronged approach to provide resources for public school teachers across Miami-Dade County to create, enhance, and sustain music programs within their classrooms and schools.
Music Innovator Grants
Innovator Grants provide funds to teachers to develop and implement new, instructional projects that motivate and challenge students to learn. Submitted proposals should be innovative, unique classroom projects that enliven and enrich the music curriculum. Apply for up to $1,000 in funding. Selected teachers will also receive a $250 stipend.
Music Expo Workshop Disseminator Stipends
Music educators are invited to apply for Disseminator Stipends, which offer teachers who have a proven, successful teaching strategy the opportunity to package and market their ideas to other teachers by leading workshops at the annual Idea Expo Teacher Conference. Earn a $1000 stipend. 
Adapter Grants
Educators who attend the Idea Expo can implement the teaching strategies learned from their peers with Adapter Grants of up to $600.  
Examples of Innovative Music Projects
Click images below to download the curriculum packets and project description pages from our catalog.
---
.