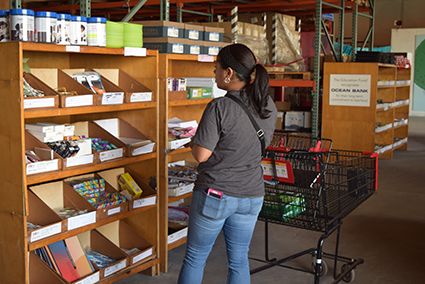 We are currently accepting online pass requests for The Education Fund Ocean Bank Center. The passes will be issued on a first-come, first-served basis. Thank you for your patience. We look forward to serving you.
Here's what you need to know before filling out the form below:
Current full-time teachers and PTA / PTSA presidents in the Miami-Dade County Public Schools are eligible to visit The Education Fund Ocean Bank Center warehouse.
Teacher visits are held most Saturdays from 9:00 a.m. to 11:30a.m. Please note we are not open every week and you will receive an email with the date and time of your assigned visit.
Due to Covid-19, we are currently only offering a materials drive-thru pick up process to provide supplies to you with minimal contact.
To obtain a pass to visit The Education Fund Ocean Bank Center please

complete the form below

 and include a valid e-mail address (you will receive your pass at the e-mail address you provide).
 
You are entitled to one visit every six months. If you have previously visited, you may request a pass two months prior to your six-month re-visit date.
 
During your visit, you will be asked to complete a survey, detailing how the supplies will be used.
 
PTA & PTSA presidents: You will need to bring a letter on your school's stationery stating you are the president for the current year. The letter should be dated and signed by the principal.
---