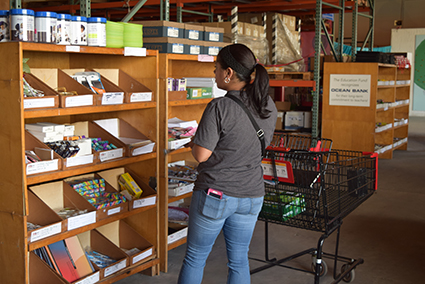 Full-time teachers and current year PTA / PTSA presidents in the Miami-Dade County Public Schools are eligible to visit the Ocean Bank Center for Educational Materials warehouse. Teacher visits are held on Wednesdays from 2:00 p.m. to 6:00 p.m. and on Saturdays from 8:00 a.m to 12:00 p.m.. Please note we are not open every week and you will receive an email with the date and time of your assigned visit.
To obtain a pass to visit the Ocean Bank Center for Educational Materials please complete this form and include a valid e-mail address (you will receive your pass at the e-mail address you provide).

You are entitled to one visit every six months. If you have previously visited, you may request a pass two months prior to your six-month re-visit date.
If you visited previously, you must complete an evaluation and visit follow-up form, if you haven't yet done so.
PTA & PTSA presidents: You will need to bring a letter on your school's stationary stating you are the president for the current year. The letter should be dated and signed by the principal.
Applications to visit can take 2-4 weeks to process.
For more information contact:
Stacey de la Grana 
Vice President of Programs and Ocean Bank Center Director
sdelagrana@educationfund.org

 
Made possible with support by: 

---