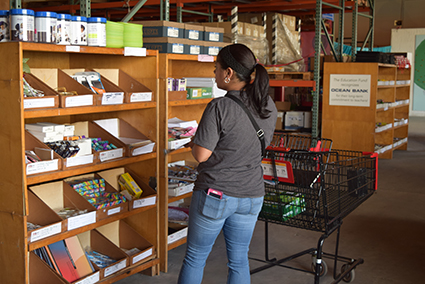 Full-time teachers and current year PTA / PTSA presidents in the Miami-Dade County Public Schools are eligible to visit the Ocean Bank Center for Educational Materials warehouse.
Teacher visits are held Wednesdays from 2:00 p.m. to 6:00 p.m., and Saturdays from 8:00 a.m to 12:00 p.m.. Please note we are not open every week and you will receive an email with the date and time of your assigned visit.
To obtain a pass to visit the Ocean Bank Center for Educational Materials please

complete this form below

 and include a valid e-mail address (you will receive your pass at the e-mail address you provide).
 
You are entitled to one visit every six months. If you have previously visited, you may request a pass two months prior to your six-month re-visit date.
 
If you visited previously, you must complete an evaluation and visit follow-up form, if you haven't yet done so.
 
PTA & PTSA presidents: You will need to bring a letter on your school's stationary stating you are the president for the current year. The letter should be dated and signed by the principal.
Please note:  Due to the high volume of applications recently submitted as a result of multiple news broadcasts, visits may take 3-5 weeks to process. Please know that we value and appreciate all submissions and are processing as quickly as possible.  We thank teachers for their patience and apologize for any inconvenience this may cause.
For more information contact:
Stacey de la Grana 
Vice President of Programs and Ocean Bank Center Director
sdelagrana@educationfund.org

 
Made possible with support by: 
---