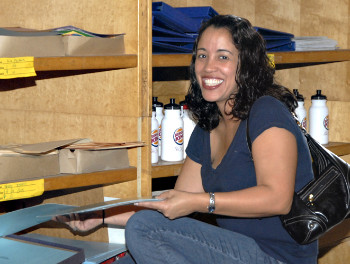 Earn A Free Shopping Trip...
Volunteer At The Ocean Bank Center for Educational Materials
How do I volunteer?
Email Kathy Burgos, receptionist@educationfund.org and tell her what days and dates you are available. She will contact you.
Job Description:
Individuals and groups needed to unpack and sort donations at the warehouse.
Greet teachers and assist them with shopping and merchandise checkout procedures.
Prepare attractive displays of merchandise.
Restock the store shelves to prepare for the next shopping day.
Accept delivery of donations.
Willingness to work in a non air-conditioned building.
Requirements:
Volunteer for 4 hours to earn one extra shopping trip. Must be a classroom teacher or sponsored by a classroom teacher to qualify. Shifts are available on selected Wednesdays, 2:00 to 6:00 p.m.and Saturdays, 8:00 a.m. to 12:00 p.m. The Ocean Bank Center for Educational Materials is located at 6890 NW 76th Street, Medley, FL 33166.
Contact:
Stacey de la Grana 
Vice President of Programs and Ocean Bank Center Director
sdelagrana@educationfund.org

Made possible with support by: