Attention Miami-Dade County Public School Teachers:  The Education Fund is now accepting applications  for Teach-A-Thon 2017!! 
Join us for this unique and exciting campaign, where bankers, lawyers, accountants, and professionals from all walks of life learn what it takes to be a teacher. Each of these Teacher Champions will then "step into the shoes" of a Miami-Dade County Public Schools' teacher to raise money and support for teachers.
                                                                                          SCROLL DOWN TO COMPLETE APPLICATION!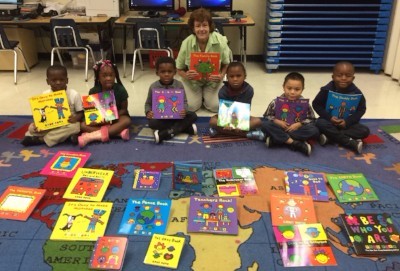 By participating in The Education Fund's Teach-A-Thon, your class and your profession benefit!  Here's how:
A business executive will teach for at least one hour in your classroom while you observe.
     -- Your students get to meet someone from another walk of life
     -- You get to show someone what it takes to be a teacher - this is NOT Career Day!
 
You develop a relationship with someone in the business community
     -- You'll communicate in advance - providing or vetting a lesson
     -- You'll meet at least the day when the business person teaches and hopefully at up to two events
 
Together we increase the public's knowledge, understanding, and appreciation of your profession.
 
YOU RECEIVE:
     -- An additional/priority shopping day at our free classroom supplies warehouse!
     --  A discounted entry fee of $35 to our IDEA Expo on December 2!
     -- Money for your classroom (average stipend $200)!
SCROLL DOWN TO COMPLETE APPLICATION!
What is required?
MUST HAVE YOUR PRINCIPAL'S APPROVAL TO PARTICIPATE
 
Selected participants must attend the "Teacher/Mentor" workshop from 4:30pm to 5:30pm on Wednesday, October 4th at The Biltmore Hotel (prior to the Kick-off Party).
 
Connect and communicate (personal meetings, e-mails, and phone calls) with your assigned Business Executive (we call them Teacher Champions) and guide them through their lesson plan.
 
Communicate as requested with Faye Wright (Director of the Teach-A-Thon) by phone, 305-558-4544 ext. 108, and email, fwright@educationfund.org
 
Host your assigned Business Executive (Teacher Champion) in your classroom for at least one (1) teaching experience (usually one class period) between October 15th and December 15th.
      -- note: per district policy, M-DCPS teacher will remain in classroom with Teacher Champion.
 
Attend up to two events along with the Teacher Champions including:
     -- Required:  Kick-off party on October 4, 2017 from 6:00pm to 8:00pm (after school)
     -- Optional:  A Taste of Education Victory Party on February 8, 2018 (after school).
 
If you are interested, please complete the easy online form BELOW by Friday, September 1, 2017. 
Questions about the Teach-A-Thon? 
Contact: Faye Wright, 305-558-4544 ext. 108, fwright@educationfund.org
Made possible with support by:

---
Thank you for your interest. We are no longer accepting applications for the 2017 Teach-A-Thon.