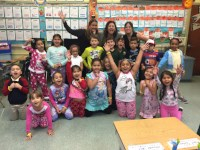 The Teach-A-Thon is a public awareness campaign, a walk-a-thon with a twist, a networking opportunity, a team-building exercise, and more...
It's a campaign.
The 2017 Teach-A-Thon is an exciting campaign, with the goal of making a difference in our children's futures while educating the business community and others about the joys and challenges of teaching.
It's a walk-a-thon with a twist.
The Teach-A-Thon uses a walk-a-thon strategy with an innovative twist. Instead of walking, running, or climbing stairs, volunteers train for a "teaching day." As part of the training process, participants learn the "Three Rs" that contribute to teaching quality:
Recruit teachers - Understand the challenges of recruiting teachers in today's environment.

Retain teachers - Gain insight into effective means of professional development strategies to keep our best teachers.

Reward teachers - Recognize teacher success and the important role they play and compensate them fairly and competitively.
It's a networking opportunity.
Training is simple, fun, and a great way to network with other professionals. Business professionals either work on their own or are teamed up with a colleague and become Teacher Champions. They gain an understanding of what the community can do to improve teaching quality while learning how to create a stimulating lesson plan. Equipped with this insight, Teacher Champions spread the message to colleagues and friends while seeking support for their teaching day.
It's fun. 
The campaign culminates in a countywide teaching effort, when all Teacher Champions spend one-to-two hours teaching in their assigned classroom. A victory party soon follows where Teacher Champions and their teacher partners celebrate and share stories of success about the experience.
Past Teach-A-Thons raised more than $450,000 from the efforts of 2,000+ Business Professionals and their teacher partners in public school classrooms across Miami-Dade. 
Utility executives taught science classes, bankers taught geography, and journalists challenged themselves teaching math classes. Students from kindergarten through 12th grade learned from the entire community. More importantly, our Teacher Champions learned the importance of supporting teachers to improve teaching quality. And, they were quick to spread the word. Whether sponsors pledged $1 or $100, each was touched by the message that teaching is one of the most important professions in our community.
The Teach-A-Thon campaign runs each school year during the fall semester.
Click here to register to be a Teacher Champion!
For questions and comments:
Contact: Karen DeLeon
305-558-4544 ext. 108
teachathon@educationfund.org