The Lucy Petrey Fund
Benefitting The Education Fund's Teacher Programs
The Education Fund is proud to announce the establishment of a fund in honor of longtime board member Lucy Petrey, who has supported the work of The Education Fund in so many ways. Lucy was the perfect board member, one who always lent a hand, provided leadership without the title, and made people feel better about hard work. She's always volunteered to help teachers. Whether was at our annual EXPO, giving teachers grant writing workshops, handing out checks at our teacher award ceremonies, or editing teachers' submissions to our Ideas with IMPACT catalog, Lucy was always present.
Lucy also engaged others to support our work in public schools. Her friends were often corralled, with promises of brownies and other delights, to help with our teacher programs. We are honored by their continued participation. For decades, Lucy's husband, Rod, and their daughters, Susan and Sarah, made Lucy's love of The Education Fund and supporting our public schools a family affair that has continued in her honor. Lucy always brought her infectious good humor is combined with a deep intellect and a sharp focus, to all of her numerous activities, including chairing our program committee, introducing new people to the importance of public education, and successfully securing significant funding to support our work with teachers.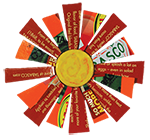 Lucy's efforts have touched the lives of countless teachers and students, and her indefatigable zest for life and tireless commitment to improving our world are a tremendous inspiration to all. The Education Fund board and staff are privileged to honor Lucy Petrey with The Lucy Petrey Fund, which will support our public school teachers and their students for many years to come.