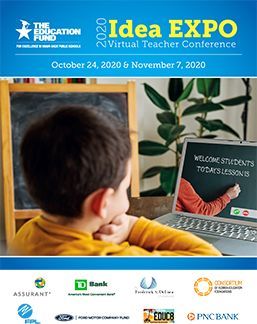 The Education Fund's Idea EXPO Virtual Teacher Conference is a teacher-to-teacher conference that showcases the sharing of "best practices" curriculum, featuring workshops for ALL K-12 teachers.
We are so sorry that you've missed our first ever virtual teacher conference! Don't worry, because we have plans to release all recordings of all workshops to you, our teachers. Check back with us in the following weeks to see any updates.

In the meantime, please check out our IDEAS with IMPACT catalogs, as all new workshops and their recourses are there.
Also our adapter grant applications are open! If you see a workshop you like, and want to try in your classroom, we'll pay for you to try it out. Lastly, if you want a whole packet of resources on the workshop you attended or missed, visit our curriculum packets page. 

We hope to see you at our 2021 Idea Expo!
For information about the 2021 Idea Expo, call
305.558.4544, ext. 113 
or email the Ideas with IMPACT Program Manager
SCREEN SHOTS FROM OUR VIRUTAL TEACHER CONFERENCE!
Idea Expo Virtual Teacher Conference
A SPECIAL THANK YOU TO OUR SPONORS!