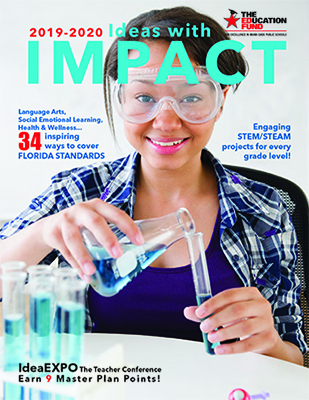 Ideas with IMPACT's Idea EXPO - The Teacher Conference is a teacher-to-teacher conference that showcases the sharing of "best practices" curriculum, featuring workshops for ALL K-12 teachers. Click here to download the list of workshop descriptions.
As an Idea EXPO attendee, you qualify for 9 Master Plan Points. To receive these M-DCPS professional development credits (MPPs), you must sign up on the M-DCPS My Learning Plan System at www.dadeschools.net by (2020-2021 dates to be determined), fill out the Professional Conference/Seminar Form (#5739) at the Idea EXPO, and complete the My Learning Plan Evaluation. 
Due to the COVID-19 pandemic, full details for the 2020-2021 Idea EXPO will be forthcoming.  Stay tuned ...
The title of the course is Ideas with IMPACT Idea EXPO of The Education Fund.
CLICK HERE TO DOWNLOAD OUR FULL 2019-2020 IDEAS WITH IMPACT CATALOG!
---
Sorry you missed the 2019 Idea Expo: The Teacher Conference, but don't worry!
Join us for our 2020 Idea Expo: The Teacher Conference, where we promise to make things BIGGER and BOLDER!
 
EVENT HIGHLIGHTS
For information about the 2020 Idea Expo, call
305.558.4544, ext. 113 
or email the Ideas with IMPACT Program Manager