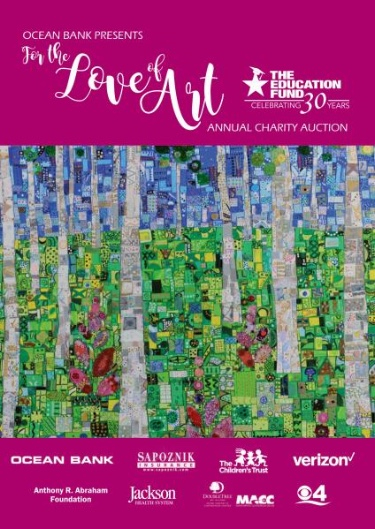 For the Love of Art Annual Charity Auction
The Education Fund's For the Love of Art Annual Charity Auction & Honoree Celebration provides much-needed resources and recognition for children in the visual arts in Miami-Dade County Public Schools (M-DCPS).  This highly successful annual event which occurs each May, showcases the essential role of the visual arts in stimulating creativity and academic success for all children in our community and features artwork created by some of Miami's most talented students and teachers.
The auction is part of The Education Fund's district-wide resource program – The Ocean Bank Center for Educational Materials - and Ocean Bank is the presenting sponsor.  Each year since 1998, approximately 200 works of art plus luxury items are sold at this high-profile silent art auction, which attracts 500+ art collectors and patrons from the community to raise money for arts education and for the resource center which serves more than 1,000 classrooms per year.
All funds generated from the sale of students and teachers' art are given to the art teachers to purchase classroom supplies that are otherwise not provided. Thus far, the sale of works by children and teachers has raised close to $1,250,000 for art programs in M-DCPS.  The Annual Charity Art Auction is a much-needed source of support for the arts in our public schools, especially when middle and lower class families are still struggling in the aftermath of the Recession.