STUDENTS SUCCEED WHEN TEACHERS HAVE
THE RESOURCES, SUPPORT AND APPRECIATION THEY DESERVE
The Education Fund recognizes the direct correlation between student achievement and empowered teachers.
We support M-DCPS' teachers through our grants programs, training, annual Idea Expo - The Teacher Conference, and public recognition. 
Designed to recognize and reward innovative teachers, Ideas with IMPACT is an investment in success that brings out the entrepreneur in our classroom teachers. This initiative provides teachers who have developed successful classroom teaching methods with funds to package and export their curriculum. Ideas with IMPACT also provides stipends to teachers who wish to adapt and franchise these winning ideas in their own classrooms. By cultivating teacher leaders, convening teachers to share best practices, and creating opportunities for teachers' professional growth, Ideas with IMPACT creates a network of support for teachers focused on improving student instruction and meeting student needs. The beneficiaries are the students who receive classroom instruction proven to promote learning and increase achievement.
The Ideas with IMPACT program has a variety of components that include the following:
Ideas with IMPACT Adapter Grant
Applications will be accepted following the 2021 Idea Expo Teacher Conference on November 6, 2021
Adapter Grants provide funds to teachers wishing to adapt any of the projects featured in our Ideas with IMPACT catalogs or at the Ideas with IMPACT EXPO. Grants range from $150-$400. Here are the application steps:
Register for and attend the Idea Expo (recommended, as attendees receive priority consideration for grant approval)
Select an idea from one of the Ideas with IMPACT catalogs, current or past.
Contact the Disseminator listed on the project page of the catalog to request an Idea Packet and discuss with him/her your ideas for creatively modifying the project.
Complete and submit an Adapter application. Be sure to include your creative modifications. 
Ideas with IMPACT Innovator Grant
Application status: CLOSED (Next call for applications:  December 2021)
Innovator Grants provide funds to teachers to develop and implement new, instructional projects that motivate and challenge students to learn. Submitted proposals should be innovative, unique classroom projects that enliven and enrich the curriculum. Many past grants have included interdisciplinary, active-learning, hands-on lessons. Others have reinforced learning through simulations or applied school work to real-life situations. Grants range from $300 - $1,000. 
Ideas with IMPACT Disseminator Stipend
Application status: CLOSED (Next call for applications: December 2021)
Disseminator Stipends offer teachers who have a proven, successful teaching strategy the opportunity to package and market their ideas to other teachers by leading workshops at the annual Idea Expo Teacher Conference. Earn $750.
Ideas with IMPACT Civics Podcast Grant
Idea Packets
An Idea Packet containing course outlines, lesson plans, resource lists, bibliographies, student worksheets, student samples, and other tools is available for every workshop offered at current and past Idea Expos. To view free Idea Packets, click here. 
Ideas with IMPACT EXPO Teacher Conference 
The 2021 Idea Expo Teacher Conference is an exciting day of professional development, with 45 brand new workshops led by M-DCPS teachers and featuring guest speakers, prize drawings and more. Register for up to 4 workshops. Earn up to 9 Master Plan Points for attending!
 Click here to find out more now!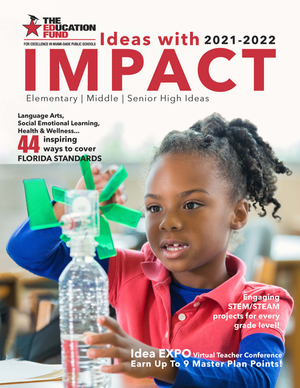 Ideas with IMPACT Catalog   
An essential component to the Ideas with IMPACT program is the Ideas with IMPACT catalog, which is published and distributed annually to every teacher in Miami-Dade County Public Schools. This catalog is a resource of teachers' proven ideas, with each page containing a different teaching strategy, information on the students for whom it is appropriate, standards met when implementing the lessons, and contact information for each Disseminator teacher. The teaching ideas in the Ideas with IMPACT catalog, created by teachers for teachers, can be used exactly as they are or modified to meet a classroom's special needs. Subject areas covered include STEM/STEAM,  language arts, math/science, social studies, health, technology, varying exceptionalities, and interdisciplinary. Teachers are encouraged to use the catalog as an idea file and keep it handy for reference throughout the year. Ideas with IMPACT catalogs are available to view for every year since 1990. Download the latest catalog.
For more information, please call:
305.558.4544, ext.113
or email Ideas with IMPACT Program Manager