WE NEED YOU!

Your support will provide students with the basic necessities to succeed in the classroom. With your help, we can make sure every student in Miami-Dade County begins the new school year equipped and ready to thrive!

The Education Fund Ocean Bank Center for Educational Materials supports all 334,000+ students and 18,000+ teachers in our public schools. Your donations will help ensure that children have the tools they need for academic success.

The Education Fund Ocean Bank Center for Educational Materials is in desperate need of core school supplies for the upcoming school year!
HOW TO HELP:
Donate your company's excess inventory! We'll accept almost any product.
Find out more!

Bulk Buy*

Buying in bulk provides supplies to students all year round and comes with a designated space at the front of our warehouse with your company's logo and a special message to teachers!

Office Supply Drive

By hosting a supply drive in your office, you can help create equity in underserved schools.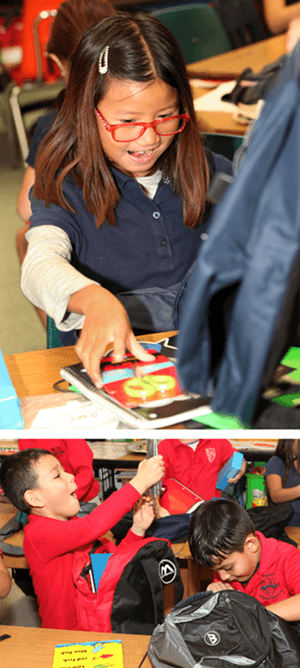 MUCH-NEEDED SCHOOL SUPPLIES:
(Highlighted are supplies always needed in bulk)
Backpacks
Children's Books (K-12)
Construction Paper

Composition Books

Copy Paper

Crayons (24 Count)

Dividers
Dry Erase Markers
Glue Sticks

Hand Soap

Highlighters

Index Cards

Erasers

Filler Paper (College or Wide Ruled)

Pencils

Pencil Pouches
Pens

Pocket Folders

Rulers

Sticky Notes

Scissors
Tissues
Washable Markers
And so much more!
To arrange a bulk donation, donate excess inventory, or start a back-to-school supply drive,
contact Jocelyn Salazar at jsalazar@educationfund.org or call/text (786) 510-1017
*If you are buying in bulk, we work with select wholesale vendors at special pricing to ensure your dollar is stretched far for every student in Miami-Dade County! Donating funds to The Education Fund to purchase supplies on your behalf guarantees reduced rates on school supplies.
Back To School Drive Photos