How Supplies are Used: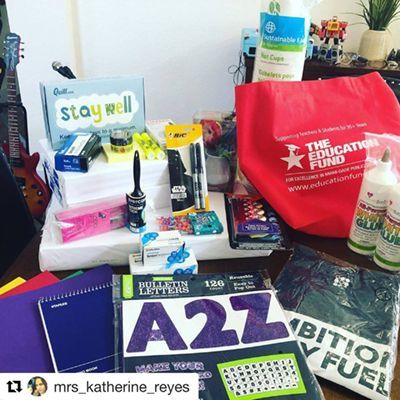 Teachers are extremely creative when it comes to finding ways to use unusual materials in their classrooms. Art teachers and their students turn the donated items at the warehouse into amazing works of art. 
Here are some examples of how teachers transformed materials found at the Ocean Bank Center into teaching tools:
Small sponges became hand stamps for kindergartners at Snapper Creek Elementary School. The children printed designs with the sponges and learned to identify their shapes.

Party supplies and paper goods were used to create a Halloween Fair booth for underprivileged children, designed and constructed by students at Southridge High School.

Architects' blueprint paper was turned into pulp and regenerated as handmade paper by students at Hibiscus Elementary School. The students then used the paper to create stunning artwork.

Tin canisters and plastic containers hold children's pencils and teach students how to sort and measure at Palm Springs North and Van E. Blanton Elementary Schools.
Teachers Need:
Composition Books & Notebooks

Pencils, Pens, Washable Markers, Crayons

Paper -- all kinds, from 8.5" x 11" to 35" x 24" or larger. White and colors. Rolls of paper as well.

Binders, Dividers & Three-ring binders

Scissors, Glue Sticks & Tape

Large Pink Erasers & Regular Erasers

Containers and storage boxes -- any size, shape or material

Arts and crafts materials
Donated Supplies Examples
For more information, please email Ocean Bank Center for Educational Materials Program Manager
Made possible with support by: