2022 "Art of Found Objects" Exhibition
For 25 years, as a part of their commitment to the community and its children, Ocean Bank and The Education Fund have sponsored an art exhibition for the students and their teachers in Miami-Dade County Public Schools for six weeks in the lobby of Ocean Bank's headquarters at 780 N.W. 42nd Ave. in Miami.
Using inspiration and imagination, students and teachers create magnificent works of art by combining nontraditional items such as model airplane propellers, fuses and other electrical parts, scrap metal, medicine bottles, bottle caps, electrical wire, ceramic shoes, and furniture, with premium quality arts and crafts materials such as fabric, art paper, scrapbooking materials, sewing machines, yarn, buttons, ribbon, and canvases, all donated by Joanne Fabrics and Pearl Art Supplies to the Ocean Bank Center for Educational Materials.  Students' and teachers' artwork often include sculptures, mixed media, 3-D pieces, and a large number of paintings and drawings.
2022 "Art of Found Objects" Exhibition Details
Where: Ocean Bank Lobby, 780 NW 42nd Avenue, Miami, FL 33126
(Free self-parking is available in the garage behind Ocean Bank.)
When: To be announced.

Many of the fabulous works of art displayed at the exhibition will be sold at The Education Fund's
"For the Love of Art" Annual Charity Auction in the spring.
2019 Art Exhibition Winners
Grand Prize (Elementary)

Dots The Dragon
Group Project
Grade: 5
School: Jack D. Gordon Elementary
Art Teacher: Michael Flaum

Grand Prize (Middle School)

Hanger Horsefly Habitat
By: Roman Alfaro
Grade: 6
School: True North Classical Academy
Art Teacher: Sara Alfaro

Grand Prize (High School)

Four Tear Drops
By: Joanna French
Grade: 12
School: Cutler Bay Academy of Advance Studies
Art Teacher: Frederic Gabriel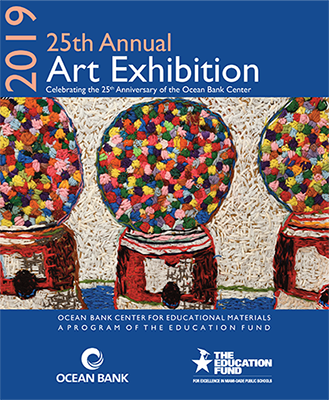 Click Here To Download Last Year's Program Book!
To find out how your students may participate in this year's Art Exhibition, call:
305-558-4544, ext. 107
or email the Ocean Bank Center for Educational Materials Director
.
Made possible with support by:

                                                Myrna and Sheldon Palley