2023 "Art Of Found Objects" Exhibition
Hialeah Cultural Center - Miami Dade College - Hialeah Campus
1776 W. 49TH ST, Hialeah, FL 33012

Exhibition Dates
April 10, 2023 - April 28, 2023

Museum Hours
Monday - Thursday: 8 AM - 7 PM
Friday: 8 AM - 4:30 PM 
Saturday & Sunday - Closed
For 30 years, as a part of their commitment to the community and its children, Ocean Bank and The Education Fund have sponsored an exhibition of visual art created by Miami-Dade County public school children.

Students create art with materials from The Education Fund's Ocean Bank Center, an 11,000 square foot warehouse stocked with donated supplies, where more than 36,000 teachers have shopped for free since 1993. The Center was created and is run by The Education Fund, with major support from Ocean Bank.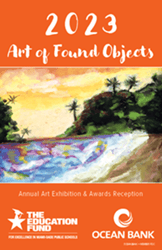 2023 "Art of Found Objects" Art Exhibition 
We are pleased to announce the winners of the 2023 "Art of Found Objects" Art Exhibition.

We have five winners in different categories that include:
Elementary, Middle, Senior High, and Teacher Artwork. 

The winners have been selected by a team of 15 artists, community members, and business professionals, and then celebrated at The Education Fund's Art of Found Objects Art Awards Reception. 

Only the grand prizes winners are shown below, to see all the winners, please download our program book. 

Art Exhibition Winners (2023)
Grand Prize (Elementary)

Galaxy Gator
Group
Grade: 5
School: Michael Flaum
Art Teacher: Jack D. Gordon Elementary

Grand Prize (Middle School)

Dandy Lion
Group
Grade: 7th
School: True North Classical Academy
Art Teacher: Sara Alfaro

Grand Prize (High School)

Spring Blooming
Dalila Di-Masuio
Grade: 12
School: Booker T. Washington Senior
Art Teacher: RayDeivis Soguero-Gonzalez

Grand Prize (Teacher)

Calle Paciencia
Maria Vallejo
School: South Miami Heights Elementary
To find out how your students may participate in this year's Art Exhibition, call:
305-558-4544, ext. 107
or email the Ocean Bank Center for Educational Materials Director

Ocean Bank – Member FDIC
*As of 3/8/2023
Photos of courtesy of Miami Dade College - Hialeah Campus