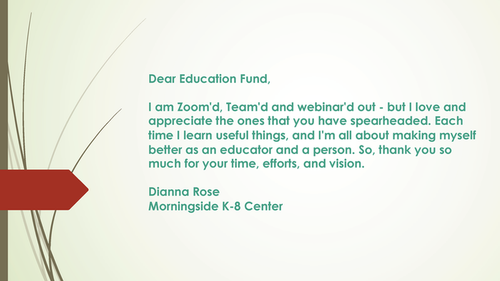 In response to the COVID-19 crisis,

The Education Fund

i

s offering free 

Distance Learning

INTERACTIVE

webinars

to help teachers transition from the classroom to teaching remotely.  
You must register and include your email address to get link to join the webinars. Please be sure to enter your email address correctly - you cannot receive link to join if there are typos in the email address field! Please register for each webinar separately. 
---
All of our previous webinars have been recorded and are available on The Education Fund You Tube channel. 
Click Here To Access The Education Fund You Tube Channel
---
Communicating with Students in Microsoft Teams (30 minutes)
In this webinar, teachers will learn how to communicate effectively with students in Microsoft Teams using posts, announcements, and more. They will also see how to encourage students using the praise feature in Microsoft Teams.
Thursday, May 21 at 4:30 PM
Click Here to Register for Communicating with Students
---
Offering Collaboration Opportunities in Microsoft Teams (30 minutes)
In this webinar, teachers will learn how to encourage collaboration in the remote learning environment using Microsoft Teams features. They will also see the importance of understanding and sharing collaboration roles and rules with students for learning tasks.
Thursday, May 21 at 5:30 PM
Click Here to Register for Offering Collaboration Opportunities
Our Microsoft webinars are led by Michelle Singh, an MDCPS Curriculum Specialist and Technology Trainer, and the Miami area Microsoft Learning Consultant supporting local school districts and higher education institutions. Ms. Singh also works as an adjunct professor of education courses for pre-service teachers and teachers who are seeking recertification.   MDCPS teachers Carmen Marroquin and Ofelia Alberto co-host to help answer your questions in real time.
Our You Tube webinar is led by Angel Myers, a 20-year teaching veteran certified in five subject areas. Currently the Culinary Arts Coordinator at Lake Stevens Middle School, Ms. Myers has seen dramatic improvements in her students' distance learning through her use of You Tube channels and videos as an effective teaching strategy. 
---
For more information on our webinars and other ways we support MDCPS teachers,  click here to email us.
---