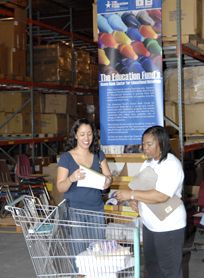 COVID-19 Relief Important Message
The Education Fund is not accepting teacher pass requests during the COVID-19 crisis.
We are, however, partnering with community nonprofits to provide supplies to students and people in need. 
For more details about our COVID-19 relief supply efforts, please call: 305-558-4544, ext. 107
or email Ocean Bank Center for Educational Materials Program Manager
About The Education Fund Ocean Bank Center
Sponsored by Ocean Bank, The Education Fund Ocean Bank Center for Educational Materials is an 11,000 square foot warehouse and distribution program that accepts donations of new and slightly used school supplies, educational materials, excess inventory, and company surplus supplies. The supplies are then made available, free of charge, to Miami-Dade County Public Schools' teachers for their classrooms. As a result, Miami-Dade students in need are receiving the necessary tools to succeed in the classroom. 
Teachers, do you need supplies for your classroom? Read on...
When it comes to creative teaching aids, teachers have come to depend on The Education Fund Ocean Bank Center for Educational Materials to provide them with the everyday basic learning essentials and unique teaching tools to motivate their students. 
Teachers may shop every six months (twice each year) for free, or on more occasions if they volunteer their time at the warehouse. As a source of free materials for public school classrooms, the Ocean Bank Center has raised $13+ million in classroom supplies and has logged over 30,000 educator visits since opening in 1993, reaching 2.2+ million M-DCPS students.
Made possible with support by: