Leading the Way in Nutrition and Environmental Education
Educating children about their natural resources and health is critical to preparing them for a sustainable future.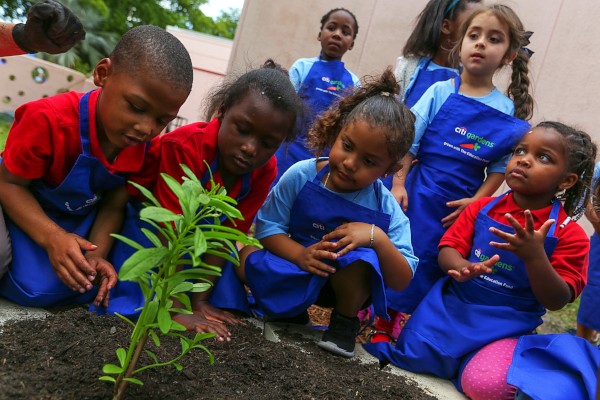 Food Forests for Schools (formerly Edible Garden Initiative) uses edible gardens and food forests as outdoor learning laboratories in Miami-Dade County public elementary schools to instill in children the desire to eat nutritious food while learning to care for the environment. Students learn curriculum based on Florida State Standards through hands-on production of edible gardens and food forests. Meanwhile, families and other members of the community work in the gardens and attend healthy cooking and gardening workshops. 
The initiative engages students, over the course of the school year, to plant and maintain edible gardens and food forests on school grounds while using those gardens to learn about healthy eating and environmental sustainability. 
From a pilot in five schools, Food Forests for Schools has grown to now involve more than 31,000 students from 51 Miami-Dade County Public Schools with diverse populations from mostly lower-income families. This is almost 25% of all elementary schools in the district.  
More than 500 teachers, cafeteria managers, and administrators attend after-school and Saturday workshops to learn and share how to plant and maintain edible gardens, integrate them into the curriculum and cafeteria, reach out to the community, collect data to evaluate the program, and advocate for nutritional and environmental literacy. 
The ultimate objective of Food Forests for Schools is to significantly improve eating patterns in children and their families while also improving students' academic achievement. Through Food Forests for Schools, students develop a deeper understanding of the connection between health and their environment. ​
For more information, please contact:
Eddie Recinos
Senior Program Manager
erecinos@educationfund.org

Debi La Belle
Program Manager
dlablelle@educationfund.org