The 2019-2020 Innovator and Adapter Grant recipients were honored at
"A Celebration of Teaching" awards reception in January 2020,
held at the Ocean Bank Center for Educational Materials. 
Congratulations to all the teachers listed below!
Click here to download a copy of the event program book.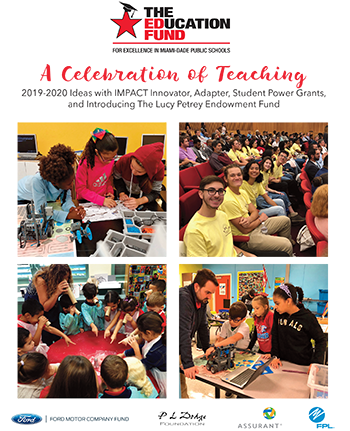 The Lucy Petrey Endowment Fund Benefiting The Education Fund
Each year, one or more Innovator Grants will be awarded through The Lucy Petrey Endowment Fund.
The selected grant(s) will embody Lucy's principled values, spirited leadership, and irrepressible commitment to our public schools
Be My Neighbor

Navia Gomez
Dante B. Fascell Elementary

Migrating from Unawareness to Knowledge Across the Globe

Ana Ortiz
Southwood Middle School

The Meditation/Healing Garden

Lisette Gil
Miami MacArthur Educational Center
Innovator Grant Recipients
#Acceleration Coach: Accelerating High School Students into Career Minded Young Adults

Gussie Sakowicz
Miami Beach Senior High

Authors at Work: Building Language

Lissette Ramos
Kinloch Park Elementary

Bringing Our Visions to Life!

Michelle Pappas
Coral Way K-8 Center

Classroom of the Future with AR/VR

Zeny Ulloa
Kendale Lakes Elementary

Connect for Success

Guilhene Benjamin
iTech @ Thomas Edison Educational Center

Digital Literacy in the Primary Grades

Marcelle Farley
Lake Stevens Elementary

Driving Into the World of Al

Suzanne Banas
South Miami Middle School

Electrifying Curriculum Review with Escape Room Activities

Jevona Cruz-Solomon
Miami Central Senior High

Five STAR Printing

Jodi English
Miami Southridge Senior High

Green Screen Learning

Janet Pinero
Broadmoor Elementary

Hi-Ho A Reading We Will Go

Donna Walker
Brucie Ball Educational Center

Inner Explorers

Teri Rodriguez
The COPE Center North

Learning About Maker Spaces with Makeys and Circuit

Vivian Veiga
Kensignton Park Elementary

Life on Mars: From a Kid's Perspective

Leilani Echezabal
Riverside Elementary

Medical Simulation Center

Erin Cernuda
Miami Sunset Senior High

Memory Matters: Presenting a Portable Portfolio

Joe Underwood
Miami Senior High School

Music Technology Earsketch

Rosa Rabinovich
Norman Edelcup K-8 Center

Orchestrating Beautiful Music Through Engineering

Manuel Cox
American Senior High

PREP: Proffering Rewards for Educational Progress!

Heather Zielke
Law Enforcement Officers' Memorial Senior High

Seeds, Roots, and STEM!

Mayako Nakamura
Gratigny Elementary

Solar System Olympics

Surey Rios
Pine Lake Elementary

Sphero (Spark+) Resources for Girls Who Code Club

Gina Ruiz-Houston
Barbara Goleman Senior High

Sphero BOLT Robot Challenge

Mercedes Quintero
South Miami K-8 Center

STEAM and Beyond: Scientific Expression Through the Arts

Ekaterina Belyakova
Robert Russa Moton Elementary

The Parabolic Math Classroom

Kelsey Major
Everglades K-8 Center

Unearthing Unheard Voices: Our Stories, Our Legacies

Jennifer Pike-Vassell
The SEED School Miami

Use a Little STEAM to Create Tasty Diabetic Friendly Meals

Angel Myers
Lake Stevens Middle School

Using Virtual Reality to Teach Climate Change

Mark Godinez
South Dade Senior High

Virtual Reality in the Classroom

Willie "Jamie" Gant
Ronald Reagan/Doral Senior High

Writing on the Classroom Walls

Sandra Daire
School of Advance Studies - Wolfson
Adapter Grant Recipients
3D Math Printing - That's the Ticket!

Disseminator:
Gareth Pearson

Adapter:
Stephany Cuellar
Frank Crawford Martin K-8 Center

A School of Fish with a STEAM Twist

Disseminator:
Beth Goldstein

Adapter:
Gloria Delgaudio
Miami Springs High School

A Way With Words

Disseminator:
John Adams

Adapters:
Isabel Mederos
Bob Graham Education Center
Cheryl Spiner
Air Base K-8 Center

Alexa in the Classroom

Disseminator:
Zeny Ulloa

Adapters:
Jennifer Cary
Kendale Lakes Elementary
Tammy Hawkins
Myrtle Grove K-8 Center
Daniella Parra
Aventura Waterways K-8 Center

Billboard Text Features Project

Disseminator:
Ileen Martin

Adapter:
Alicia Velazquez
Coral Terrace Elementary

Building Bridges with Skype in the Classroom

Disseminator:
Michelle Singh

Adapters:
Constance Gilbert
Dorothy M. Wallace COPE Center
NBCT Ken Levy
Irving & Beatrice Peskoe K-8 Center

Butterflies Never Forget

Disseminator:
Venessa Estevez

Adapter:
Dr. Jacqueline Torres-Quinones
South Dade Senior High School

Code and Go First

Disseminator:
Daniella Parra

Adapters:
Pamela Roddy
Phyllis Ruth Miller Elementary

Agnes Blalock
Irving and Beatrice Peskoe K-8 Center

Tamara Chambers
Coconut Palm K-8 Academy

Coding for Non Readers

Disseminator:
Marcelle Farley

Adapters:
Jodi Vasquez
Ponciana Park Elementary
Heidy Gonzalez
Lake Stevens Elementary
Delia Katz
Tropical Elementary
Elizabeth Molina
Lake Stevens Elementary
Heather Tavio
Sylvania Heights Elementary
Dunia Rodriguez Schweri Lakeview Elementary

Check It Out!

Disseminator:
Marlene Figueroa

Adapter:
Valerie Mills-Stuart
Pine Lake Elementary

Don't Let Go of That Lego!

Disseminator:
Duysevi Karan-Miyar

Adapters:
Lesley Tompsett
David Lawrence Jr. K-8 Center
Jacqueline Gil-Abarzua
Biscayne Gardens Elementary
Maria Duarte-Ruiz
Coral Terrace Elementary
Kathy Gibbons-Adams
Lakeview Elementary

Double Student Success with YouTube

Disseminator:
Angel Myers

Adapter:
Jean Armand
Miami Edison Senior High School

Essential Oils

Disseminator:
Alena Sheriff

Adapter:
Major Adrian Brockington
Miami Edison Senior High School

Fearless Like Ted

Disseminator:
Samantha Moulton

Adapter:
Dr. Precious Symonette
Miami Norland Senior High

Garden to Cafeteria

Disseminator:
Audria Wright

Adapter:
Elizabeth Baez
South Dade Middle School

Get on the Ball!

Disseminator:
Jacqueline Gil-Abarzua

Adapter:
Daniella Parra
Aventura Waterways K-8 Center

Happy Thoughts = Happy Classrooms

Disseminator:
Teresa Rodriguez

Adapter:
Maritza Salazar
Miami Gardens Elementary

Kindness is Wonderful - Sprinkle that Stuff Everywhere!

Disseminator:
Leilani Echezabal

Adapter:
Emmanuela Louis
Bunche Park Elementary

little black sketchbook | insects

Disseminator:
Susan Feliciano

Adapter:
Beth Goldstein
Miami Spring Senior High School

Literacy in a Pot

Disseminator:
Jennifer Smith

Adapter:
Christine Padron
Palm Lakes Elementary

The Mindful Classroom

Disseminators:
Silvia Cardenas and Wendy Chan

Adapter:
Jennifer Batchelder
Bob Graham Education Center

Makey Makey Makerspace

Disseminator:
Dale Adamson

Adapters:
Kathleen Ortiz
Miami Springs Senior High School
Michael Sakowicz
Felix Varela Senior High School

Merge Cube: The Future of Education is NOW!

Disseminator:
Zeny Ulloa

Adapters:
Dana Kelly
Royal Palm Elementary School
Milagro Mena
Royal Palm Elementary School
Hadassah Weiner Friedman
Gertrude K. Edelman Sabal Palm Elementary

Mosaics: Unity and Harmony in Broken Bits of Color

Disseminator:
Lourdes Fuller

Adapter:
Anna Weiss
Highland Oaks Middle School

Oral Fluency: Read, Record, Repeat

Disseminator:
Juan Reynieri

Adapter:
Madge Alexandre Bazelais
Lake Stevens Elementary

Plant Philosophy: Super Foods

Disseminator:
Jorge Palacios

Adapter:
Debra Reese
Joella C. Good Elementary

Shake Your Neurons

Disseminator:
Osmany Hurtado

Adapter:
Deborah Mar
Southwood Middle School

Smart Path: Guide to College Clubs

Disseminators:
Vicky Puentes & Elizabeth Briano

Adapter:
Dr. Jacqueline Torres-Quinones
South Dade Senior High School

Symphony in Space

Disseminator:
Janet Duguay-Kirsten

Adapter:
Sadie Klein
Biscayne Gardens Elementary

Weathering through the cRock Cycle

Disseminator:
Surey Rios

Adapters:
Teresa Perez
EAOP-Boystown
Mercedes Collera
Silver Bluff Elementary
Susana Pazos
Silver Bluff Elementary

Teaching Trunks on the Holocaust

Disseminator:
Esther Sterental

Adapter:
Dr. Jacqueline Torres-Quinones
South Dade Senior High School
To check out the Student Power Grant Recipients click here.
Special Thanks to Our 2019-2020 Grant Sponsors