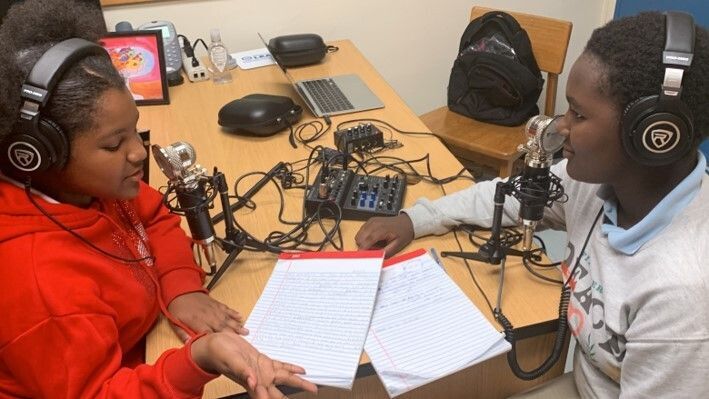 THE EDUCATION FUND CIVICS PODCAST GRANT
NOW ACCEPTING APPLICATIONS
FUNDED BY THE LYNN AND LOUIS WOLFSON II FOUNDATION
Open to Grades 6-12*
Our CIVICS PODCAST grant was created to increase student civic engagement through podcasting. Our grant will provide teachers with the funds necessary to purchase equipment for students to produce their podcast and the platform to share them with their peers, their community, and the world! 
Student podcasts can cover a variety of pertinent topics such as vaping, gun laws, social media, bullying, and environmental issues - but ultimately the students will select relevant issues of most concern to them. Teachers who receive Podcast Grants help students research topics, identify interview subjects, help students secure interviews, write interview questions, and use critical thinking skills to analyze multiple points of view. 
Funds can be used to purchase podcast recording kits (less than $300), and video creation, editing and script dictation software packages. Grant recipients are required to submit their student podcast topics to the Education Fund, and all student podcasts must include interviews. You are encouraged to attend the Idea Expo Workshop on November 4, 2023  that will provide training on technical details, interviewing techniques and more.
*Exceptions may be made to teachers of lower grades. Please contact the Ideas with Impact Program Director before applying.
Please read through these procedures and considerations before starting your application:
All student podcast topics must be civics related.

Students must be allowed to select the topic(s) of their podcast. They may choose to focus on one topic for the whole year, or select multiple topics.

You must get approval from the Education Fund Program Director of your students' topic(s) once they have been chosen, and number of episodes planned before you begin.

Students are required to establish and defend their point of view on their topic(s), and learn to advocate for the changes they would like to see.

Students are required to conduct interviews with experts, elected officials, and others in positions to enact change.

Teachers must submit at least 1 episode of their student podcasts. 

Approval is required from your school principal to ensure that appropriate administrative personnel are aware of your submission of the grant application.

Project funds must be spent during the current school year.

A final expense report will be required.

The Education Fund reserves the right to publicize all materials, audio files, and photos related to grant programs.

Teachers must submit photographs of students recording their podcasts
Contact Information:
Audrey Onyeike
Program Director
Ideas with IMPACT
The Education Fund 
audrey@educationfund.org
---